LRIC names Early Career Research Award recipients
Three University of Guelph researchers share inaugural award.
Three researchers from the University of Guelph are sharing the first-ever Early Career Research Award, announced by Livestock Research Innovation Corporation (LRIC) at its annual meeting on June 13. Dr. Jennifer Ellis from the Department of Animal Bioscience at the Ontario Agricultural College (OAC), and Dr. Nicole Ricker and Dr. Sam Workenhe, both in the Department of Pathobiology at the Ontario Veterinary College (OVC), are each receiving $25,000 towards innovative research they are working on.
LRIC, Grand River Agricultural Society (GRAS), Western Fair Association (WFA), OAC and OVC all provided financial support to create this new award. Originally valued at $70,000, LRIC and GRAS each contributed an extra $2,500 this year to support the naming of three winners.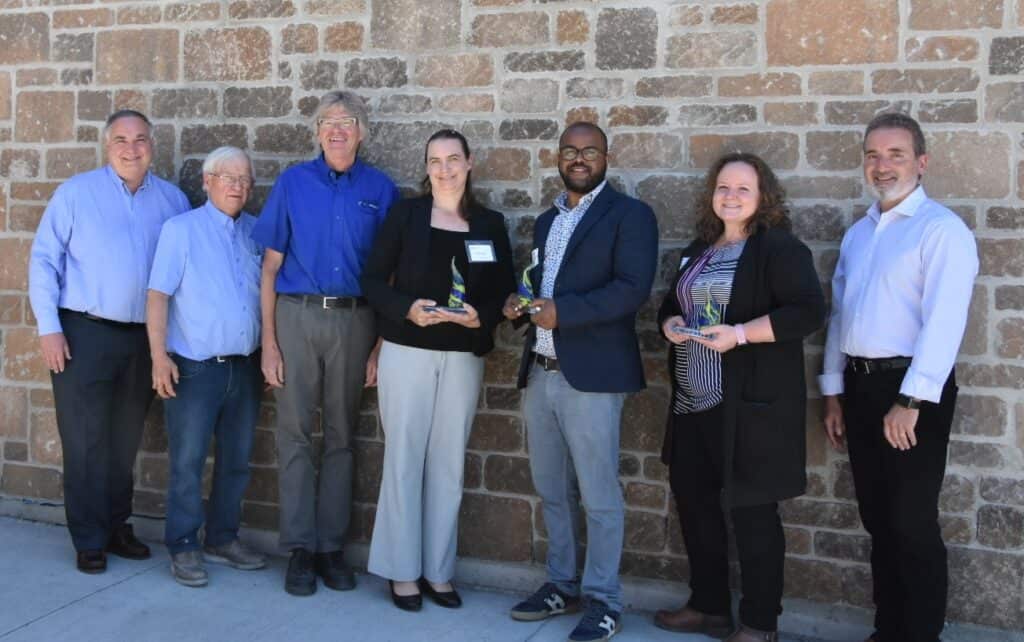 "This award is designed to reward creativity and industry focus and encourage cross-sector and cross-discipline approaches to the big issues facing the livestock sector and researchers really stepped up with nine high-quality submissions," says LRIC CEO Mike McMorris. "Issues like climate change, antimicrobial resistance or animal health are complex and need collaborative approaches and a diverse range of expertise and we're excited to see how these new projects will evolve."
Dr. Jennifer Ellis' project will use a cross-disciplinary approach to build a digestion and metabolism model for horses to address nutrition, health, and sustainability challenges in the equine sector. The digital decision-making tool will help the equine sector balance rations, optimize performance, minimize its environmental footprint and reduce disease risks. Her work will draw on past work on other species.
Dr. Nicole Ricker uses a One Health approach in her work around identifying and minimizing the emergence of antibiotic resistance genes in livestock production. She will use her award for equipment that expands the capacity of the DNA extraction that is central to all her research and to generate pilot study data that will support subsequent grants. Her team includes various researchers bringing many valuable perspectives.
Dr. Sam Workenhe is building a lab-to-farm genomic medicine pipeline to discover and develop antiviral treatments for highly pathogenic livestock and poultry viruses. The ultimate goal is to curb economic losses in the sector from these types of diseases; all livestock sectors would benefit from such a pipeline.
"The work being supported by this new award speaks to the importance of industry leadership and the incredible value that cross-sector and cross-discipline research approaches provide," says Dr. Jeffrey Wichtel, Dean, Ontario Veterinary College. "The livestock industry plays a key role in Ontario's economy but also makes many other positive contributions to our province, like land stewardship and community building, that are important from a sociocultural perspective."
The award is open to faculty from the University of Guelph who are participants in LRIC's Early Career Mentorship Program. LRIC launched its mentorship program in 2020, with the goal of bridging early career University of Guelph faculty to the livestock industry by deepening their understanding of its research needs, as well as building important relationships with industry. The second cohort began in September 2021.
Established in 2012 with support from Ontario's beef, pork, dairy and poultry sector organizations and the Ontario Ministry of Agriculture, Food and Rural Affairs, LRIC's mission is driving innovation. The organization takes a value chain approach to research and innovation by providing leadership in research priority setting, coordination and process, identifying and communicating emerging issues, and strengthening networks across the sector. For more information, visit www.livestockresearch.ca.
Article provided by Live Stock Research Innovation Corporation
For more information:
Mike McMorris, LRIC CEO, 519-766-5464 or mmcmorris@livestockresearch.ca